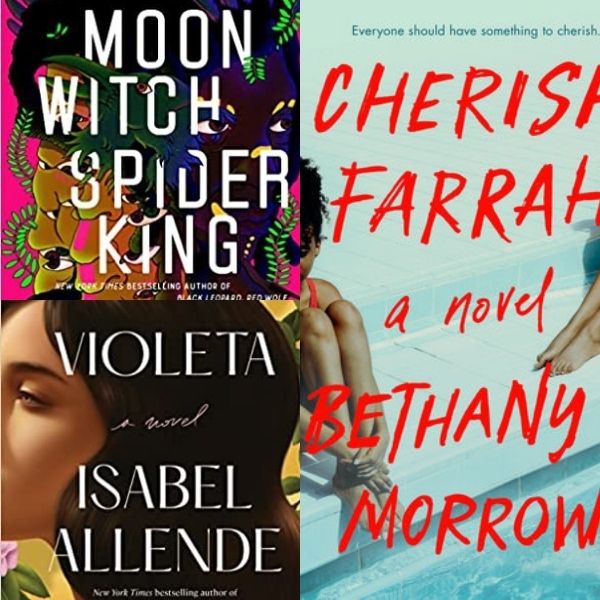 It's a new year, and the best part of that is NEW BOOKS! We are so excited for the plethora of new books releasing in 2022, and while we certainly couldn't even begin to cover them all, here are 22 of our most anticipated new book releases 2022 has to offer. Just a note that there are going to be more listed for the beginning of the year, as some releases for the end of 2022 haven't been finalized yet or might not have a ton of info available at this time, but this should get your 2022 wishlist a nice head start!
Winter 2022 New Book Releases
A neurodivergent young woman gets a job as a hotel amid after the death of her beloved grandmother, and finds that she enjoys the order and rules…until she walks into a room with a dead guest, and her peculiar ways make her the number one suspect!
Set in an alternate 1893, 1993, and 2093, three different era in American history and future play out as different characters pursue the elusive American dream and find themselves connected in surprising ways.
Violeta by Isabel Allende
In 1920, Violeta is born to a large family in South America, arriving just ahead of a global pandemic. She lives one hundred years, and in that time she sees some of the biggest changes across the century, all of which she bears witness to in a letter to the person she loves the most.
Farrah and Cherish are the only Black teens in their very white, very affluent community. Cherish is the daughter of white adoptive parents and beyond spoiled, so when Farrah's family loses their standing, Farrah begins to ingratiate herself into Cherish's family and life. But it's not long before she begins to suspect she's the one who's really being manipulated.
In this much anticipated sequel to Black Leopard, Red Wolf, Sogolon takes center stage as she tells her side of the story…including a long-running feud with a powerful figure who could be her undoing.
Spring 2022 New Book Releases
Gallant by Victoria Schwab
Olivia is an orphan who only has her mother's nonsensical journal as any artifact of her past. But when she's invited to Gallant, a crumbling estate, it provides another essential clue to where she comes from, and Olivia isn't about to be scared off any time soon.
Sara is a sought-after mixologist working at Yerba Buena, a hot LA restaurant. Emilie takes a job arranging flowers at the restaurant on a whim. Their connection is electric, but their timing is all wrong, and when their pasts come back to haunt them, they'll have to figure out if their love is strong enough to prevail.
Salahudin and Noor share a deep bond growing up in the desert of California, until one fight shatters their friendship. As Sal tries to save the family motel and Noor looks to a future far away, they must see if they have what it takes to save each other.
Joy, who is asexual, is secretly in love with Malcolm…but when he announces he's fallen for someone else, she's heartbroken. Then, on a weekend getaway, she meets Fox and he offers to help make Malcolm jealous. But soon Joy begins to wonder if perhaps she has her focus on the wrong guy.
Set in a magical, pre-Code Hollywood, Luli Wei will do whatever it takes in order to escape her home and become a star, but the magical sacrifice required of Hollywood starlets isn't for the faint of the heart.
Meddy is excited for her wedding, and even happier than she's convinced her mom and aunties to take the day off to enjoy her nuptials. But when it becomes evident that the wedding planners they've hired are using her big day as. cover up for some nefarious business, Meddy and the aunties are on the case!
In her next soul-searching and thought-provoking novel, a violin performance in an unlikely place unites three people across time and space.
Nora is a cutthroat literary agent who isn't anyone heroine, and Charlie is a brooding, annoying book editor whom Nora definitely doesn't like. When Nora's vacation away from New York City has her bumping into Charlie, she finds that there might be more to his story than she expected.
Summer 2022 New Book Releases
Amy is a bartender and aspiring baker living in Tulsa who has just fallen for the new woman in town…and stumbled into a strange career path as a bridesmaid for hire. Her new gig utilizes all her passions and skills, but soon Amy has to figure out how to satisfy her own heart's desires first rather than anyone else's.
In this new collection, Patrick Radden Keefe exposes some of the most brazen criminals and grifters and shares their crimes and how they got away with them—or nearly.
After Leah's marine expedition took her submarine to the ocean floor, she comes back not quite herself. Her wife Miri is alarmed by how untethered Leah becomes, and must contend with the possibility of losing her for good.
We Lie Here by Rachel Howzell Hall
Yara is back in her hometown, preparing to host her parents' anniversary party, when she begins receiving disturbing texts from a woman claiming to be her mom's childhood friend. Then, that friend is found dead…but not before leaving behind disturbing pieces of a mystery that only Yara can put together.
In this chilling novel, Vera is the daughter of a serial killer and she left home long ago. But at the insistence of her mother, she's returned one last time to face the past…and is horrified to find it's not quite done with her yet.
Set in 19th century Mexico, Carlota Moreau lives on a remote, luxurious estate, the daughter of a man some consider a genius, other a madman. When Eduardo Lizalde, the son of her father's patron, arrives, he sets off a chain reaction that could spell danger for everyone.
Alex Easton is a soldier who rushes to the side of their childhood friend when they hear she's fallen gravely ill. But the House of Usher is not at all what they expect, and they must form an alliance with two strangers in order to unravel its secrets if Alex's friend is to survive.
Fall 2022 New Book Releases
Leigh Bardugo makes her graphic novel debut with the prequel story starring a young Darkling, illustrated by Dani Pendergast.
The third book in the highly praised Locked Tomb series will drop this fall, featuring none other than Nona!
And if you're looking for more great reads, for your book club or for your own reading, then check out our list of best book club picks of 2021!
Want more great new book releases? Sign up for TBR: Tailored Book Recommendations! TBR is a personalized book recommendation service that sends you books you'll love to read. Here's how it works: Simply fill out the reader survey and let us know what you want more of–such as the best new book releases in your favorite genres–and what you're not keen on. Then, an expert Bibliologist will read your responses and recommend three books just for you. Receive your recommendation letter via email in about two weeks, or opt to receive your recommendations as brand new hardcovers in the mail in about three to four weeks. Learn more and sign up now!