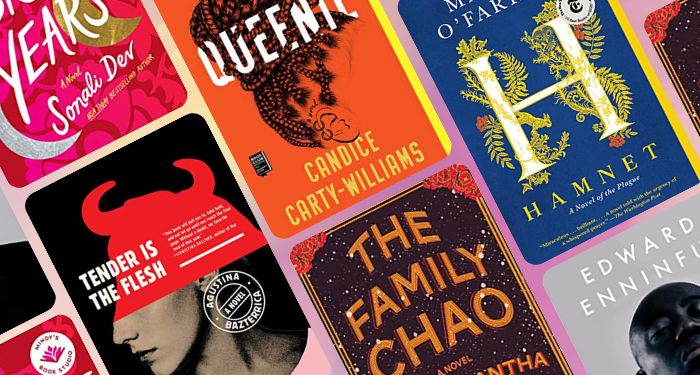 Celebrities might seem like they live in a different world than the rest of us — and indeed, in many ways they do! — but it all evens out when it comes to reading materials: the same books are available for movie stars to read as the rest of us can pick up at our local bookstore or library! That's what makes celebrity book recommendations so fun! In fact, one of my favorite celebrities, Chris Pine, is frequently photographed shopping at his local bookstore!
But what's in that bag?! Luckily, he often shops for a stack of books that fits in his hands, and he always shows the spines to the local paparazzi! So, in Chris Pine's honor, here are 20 celebrity book recommendations (whether overtly or like this)!
Celebrity Book Recommendations
Tender is the Flesh by Agustina Bazterica, recommended by Chris Pine
Okay, so he didn't recommend it so much as he carried it out of a bookstore and showed it off for a photographer, but can we agree that unlike retweets, purchases are endorsements? Maybe we can and maybe we can't, but either way, we know Chris Pine bought this book.
Letters to a Young Poet by Rainer Maria Rilke, recommended by Jennifer Lopez
In the latest On the JLo email, Lopez wrote, "Ben and I laughed the night before about getting married again at our age. We had both been married before and we aren't exactly kids any more but somehow now seemed like the only age that made sense. I had recently read something Rainer Marie Rilke wrote in Letters to a Young Poet about love. He said one has to be ready for love. 'For one human to love another is the most difficult task. It is the work for which all other work is merely preparation.' Being able to love someone so that you want to be better for them and make them happy, because giving happiness and love becomes more joyful than receiving it, is true sublime adult love."
Hamnet by Maggie O'Farrell, recommended by Celeste Ng
In an interview with EW.com, Ng says, "I stayed up late to finish reading it and I accidentally woke my husband up because I was sobbing. I don't know how she did it."
The Family Chao by Lan Samantha Chang, recommended by Barack Obama
President Obama shares a summer reading list every year, and this year is no exception. The only hard part was choosing just one of his recommendations for this list! His other choices include A Little Devil in America by Hanif Abdurraqib and Razorblade Tears by S.A. Cosby.
Queenie by Candice Carty-Williams, recommended by Halle Bailey
In this 2020 Fader video, Williams and her sister talk about several topics, including Halle's favorite books. Queenie topped the list, alongside The Deep by Rivers Solomon, which she connected to as a Black mermaid.
Thrust by Lidia Yuknavitch, recommended by Amber Tamblyn
In an Instagram post, Tamblyn calls this book "exactly what we all need right now," going on to call it "a powerful story of survival, immigration, and transcendence across lands and across time that tells the story of people living on the margins and triumphing in the face of a world already crumbled. Do yourself a favor and order a copy of the book today."
Song of Solomon by Toni Morrison, recommended by Michelle Obama
On this year's Book Lovers Day, the beloved former First Lady wrote that "It's one I've often found myself turning back to over the years."
Last year, the comedian and author wrote, "This is the most exciting and helpful book I have read in a very long time. I've been taking in a lot of information over the past couple of years, but reading this book returned me to the realm of actually learning from what I take in. It is kind, relaxing but also invigorating, and makes me feel hopeful as a creative person. What a gift to go into a book and find yourself eager to explore your own mind and get back out into the world."
Nightcrawling by Leila Mottley, recommended by Oprah Winfrey
This novel by a 17-year-old author was an Oprah's Book Club pick back in June 2022. The former Oakland, California, youth poet laureate was the youngest ever Book Club author!
In addition to owning her own imprint, SJP recommends a lot of books. A true reader, that one. She recently rejoiced when this novel won the Booker Prize!
The Vibrant Years by Sonali Dev, recommended by Mindy Kaling
This is the (upcoming) inaugural title in Mindy's Book Studio, her Amazon Publishing imprint.
A Visible Man by Edward Enninful, recommended by Lupita Nyong'o
The award-winning actress and author of Sulwe called this a "beautiful book from my beautiful friend," adding that author Enninful's "life is groundbreaking and we're so lucky he captured it in his memoir."
The Gospel of Wellness by Rina Raphael, recommended by Rachel Bloom
The Crazy Ex-Girlfriend and Reboot actress/writer/producer, singer, and author of I Want to be Where the Normal People Are recommends this book about "Gyms, Gurus, Goop, and the False Promise of Self-Care," adding, "it's on audiobook so if you wanna be ironic you can listen to it during a cupping session."
Unbound by Tarana Burke, recommended by Megan Rapinoe
This book by the founder of the MeToo movement was a selection for soccer star and Presidential Medal of Freedom recipient Megan Rapinoe for her Literati Book Club. Her most recent pick is Olga Dies Dreaming by Xochitl Gonzalez.
Harlem Shuffle by Colson Whitehead, recommended by LeVar Burton
When the king of reading recommends a book, you know it's good! This was Levar's pick for his Fable Book Club in July 2022.
Looking for more great book recommendations? Check out the best online book subscriptions! Or, try TBR: Tailored Book Recommendations to get made-for-you recommendations, instead of relying on celebrity book recommendations.
TBR is a personalized book recommendation service that sends you books you'll love to read. Here's how it works: Simply fill out the reader survey and let us know what you want more of and what you're not keen on. Then, an expert Bibliologist will read your responses and recommend three books just for you. There are two subscription options: receive your recommendation letter via email in about two weeks — perfect for library users! — or opt to receive your recommendations as brand new hardcovers in the mail in about three to four weeks. Learn more and sign up now!