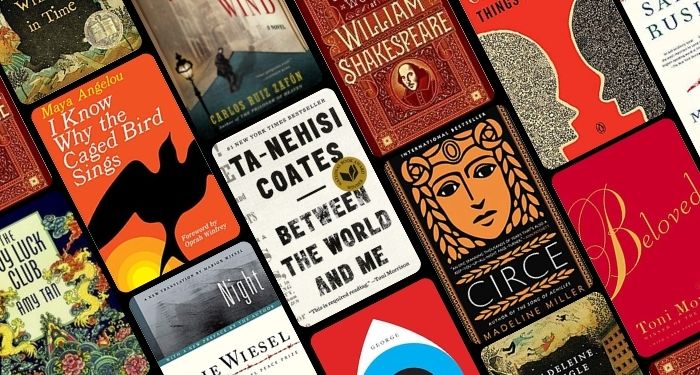 What are the top books to read in your life? Well, the answer to that will depend on who you ask. There are millions of books in the world, and narrowing down the list to just a handful of books is an impossible task. Do you stick to classics of the canon? Most influential books throughout history? Most relevant texts? The possibilities are endless, and the reality is that throughout your life you should read the books you love, and try to read diversely and across genres, eras, and cultures. But if you're a reader of English and are wondering where to start, here are 15 great books our expert Bibliologists recommend to read before you die!
Poet and civil rights activist Maya Angelou's best known book is a memoir of her early years, beginning when she was a child and was sent to live with her grandmother, covering her childhood and years of mutism, and concluding when she was sixteen and became a mother. The 1969 memoir was lauded as not only being a spectacular piece of autobiographical writing, but also a work of literature, and it was followed by six more volumes.
1984 by George Orwell
First published in 1949, this dystopian novel imagines a grim future where the government has total control and falsifies reality in order to control the people. When the protagonist, a man who hates the government regime and their constant surveillance, enters into a relationship with a colleague, his memories of a different world put him in grave danger. Even sixty-plus years after its publication, 1984 remains eerily relevant and foreboding.
It's impossible to overstate just how influential William Shakespeare has been on English language and literature, and even more difficult to pick just one of his many plays. But whether you decide to pick up a tragedy like Hamlet or Othello, a comedy such as Much Ado About Nothing, or a history such as Henry IV, you'll experience brilliant writing and wordplay that helped Shakespeare endure throughout the centuries.
Written as a letter to his teenage son, Coates recounts his own experiences growing up Black in America, the history of racial violence and injustice, and where he sees that the country needs to reckon with its past in order to move forward.
Four Chinese women gather weekly in San Francisco to play mahjong and share their stories, their triumphs and tragedies. They continue to do this for forty years, until one of them dies and her daughter takes her place and learns surprising truths about her mother and her final wishes.
Saleem Sinai is born on the stroke of midnight when India became a free country once more, and as he gets older he realizes the grave consequences of this: He and the other children born at the same time find that their own actions and well-being are inextricably linked to India's health as a nation.
Although a children's novel, L'Engle's science fiction novel is a moving exploration of what it means to live in an unfair world, to experience loss and anger, and a testament to the power of love.
Esteban is an ambitious politician who is married to a woman named Clara, who has a connection to the spirit world. He clashes frequently with his daughter, Blanca, who has an affair that results in a daughter named Alba, who will change all of their lives forever.
This international bestseller tells the story of a young shepherd named Santiago who finds himself on a journey in search of a treasure beyond imagining, and what he learns along the way.
The first in a trilogy, Things Fall Apart is the story of Okonkwo, an Igbo warrior who finds his way of life and his traditions threatened with the arrival of colonial forces in his land, and must bear witness to an irrevocable change in his land.
Night by Elie Wiesel
This horrifying and deeply moving book is Elie Wiesel's account of survival in the Nazi death camps as a teenager, and how he found the strength to not only survive, but to bear witness to all he saw and record it so that history would know the truth of what happened.
Set in Barcelona in 1945, Daniel is the son of a book dealer who discovers a beloved book in the Cemetery of Forgotten Books…only to find that someone is tracking down every copy in existence with the intent of destroying it.
Circe by Madeleine Miller
Miller brings characters from mythology vividly to life as Circe, born a child of the gods, turns to the world of the mortals and discovers her own strange powers. As her reputation grows, she must soon make an impossible choice: Stay with humans, or assume her place with immortals.
Beloved by Toni Morrison
Sethe was born into slavery and although she has since managed to escape to Ohio, the horrors of slavery and her early life have never left her, including the death of her child, who went to the grave unnamed.
When a man goes searching for his wife's missing cat, a simple search turns into a deeper exploration for his wife, and for the truth about the past and his own relationships.
Want more great recommendations? Check out the best online book subscription services, or sign up for TBR: Tailored Book Recommendations! TBR is a personalized book recommendation service that sends you books you'll love to read. Here's how it works: Simply fill out the reader survey and let us know what you want more of—such as fairy tales for adults—and what you're not keen on. Then, an expert Bibliologist will read your responses and recommend three books just for you. Receive your recommendation letter via email in about two weeks, or opt to receive your recommendations as brand new hardcovers in the mail in about three to four weeks. Learn more and sign up now!