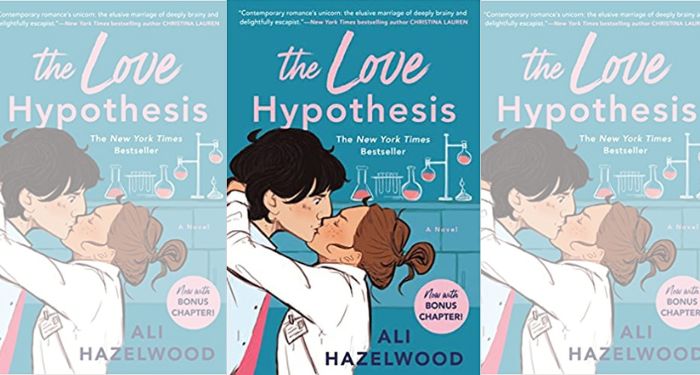 Since its release in September 2021, The Love Hypothesis by Ali Hazelwood has been a runaway bestseller, appeared on favorites lists all over the place, and been a darling of BookTok. If you loved it, too, you're probably looking for more romance books like The Love Hypothesis to scratch the itch. Look no further! I've found eight romance novels that will give you the same things you loved about The Love Hypothesis — fake dating, science, academia, and so much pining — while also giving you something different to keep your reading fresh and exciting!
Loosely based on Shakespeare's The Taming of the Shrew, Dating Dr. Dil follows Kareena Mann, who is desperate to hang onto the house her late mother built. Kareena's influencer sister is getting married, and their father has decided to sell the house; he agrees to sell it to Kareena if she is engaged by her sister's wedding — he'll give her the money that's set aside for her own wedding, and she can spend it as she pleases. So she starts aggressively using dating apps, while dealing with the fallout of a viral moment on her sister's live stream with Dr. Prem Verma, the heart doctor who doesn't believe in love. That same moment lost him funding for a project he's deeply passionate about, so they agree to fake a relationship to save both of their reputations (and money).
In this even looser adaptation of Pride and Prejudice (it's really more inspired by than anything), Darcy's matchmaker brother — literally, he owns a matchmaking app — sets her up on a date with Elle, an astrologer and his new business partner. It goes very poorly, but to keep him from trying to set her up again, Darcy tells him it went great and then begs Elle to pretend to date her through the holidays. Elle agrees, if Darcy will help her deal with her family, too.
Kian is not over his ex, Hudson, but he is glad he never has to deal with his wealthy family again. Except Hudson just texted him to meet for coffee, where he begs Kian to pretend they're still together for a meal with his parents and sister. For some reason, Kian agrees, and things escalate from there: at dinner, Hudson's parents invite Kian to a family wedding, and Hudson says they'll both be there. Now Kian is stuck in Georgia with a rich family he doesn't fit into, pretending to still be together with the ex-boyfriend he's still in love with.
Single mom Jess has no interest in dating. She'll stick to data analysis, thanks! But she's curious — intellectually! — about GeneticAlly, a matchmaking service that claims it can analyze your DNA to find you the perfect match. And she gets a 98% match with the company's founder, Dr. River Peña, who she has met…and can't stand. The company asks them to get to know each other, to test the accuracy of the prediction, and offers Jess money to participate. She can't turn that down, and so she finds herself very publicly getting to know the scientist who might be her soulmate.
Gracie Reed knows she looks a little like movie star Wei Fangli — in fact, her harasser boss fires her because he sees a paparazzi photo of Gracie when she was mistaken for her, revealing her deception in being absent from work. She is surprised when Wei Fangli herself, along with her costar and presumed boyfriend Sam Yao, approach her and ask her to work for them as Fangli's stand-in for certain appearances while they are in town performing in a play. Desperate to earn enough money to send her mother to a better memory care home, Gracie agrees. But pretending to date Sam is more exciting than she expected.
Soap opera star Jasmine has a reputation to resuscitate after a messy breakup landed her in the tabloids. Telenovela star Ashton's last character was killed off, and he's desperate for a comeback. They're cast together in a bilingual romcom, and have to make their romance believable after a disastrous first meeting. But their attempts to improve their onscreen chemistry lead to a steamy offscreen romance worthy of a telenovela, and they both have to be careful to protect their public images from being destroyed…again.
Dani asks the universe to send her a friend-with-benefits, and the universe promptly traps her in an elevator during a fire drill at the university where she's a PhD student. She is rescued by security guard and former rugby star Zaf, and someone records the whole thing and puts it on the internet. Suddenly Zaf needs Dani to go along with the viral #DrRugbae shippers in hopes of publicizing his kids' sports charity. She agrees, and they fake date (with benefits) — but Zaf wants something real.
Bee lives by the code "What would Marie Curie do?" and dreams of working as a neuroengineer for NASA. Her biggest problem is Levi, who is very handsome and has been her enemy since graduate school. But when Bee's equipment goes missing, it's Levi who stands up for her, and it seems like he might have reversed his stance on keeping their distance from each other, professionally and personally.
Looking for more great books like The Love Hypothesis? TBR is a personalized book recommendation service that sends you books you'll love to read. Here's how it works: Simply fill out the reader survey and let us know what you want more of and what you're not keen on. Then, an expert Bibliologist will read your responses and recommend three books just for you. There are two subscription options: receive your recommendation letter via email in about two weeks — perfect for library users! — or opt to receive your recommendations as brand new hardcovers in the mail in about three to four weeks. Learn more and sign up now!