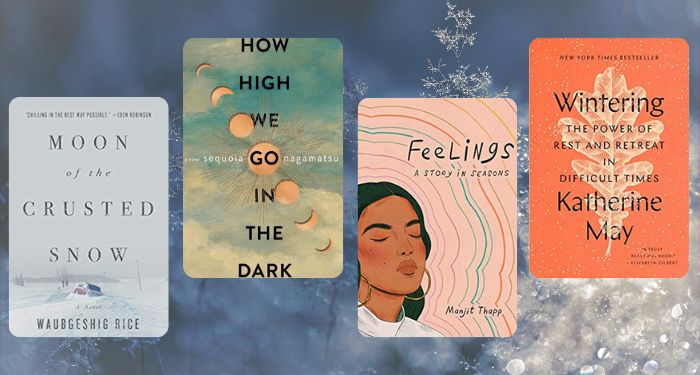 Winter is coming here, and with it comes the urge to be cozy with a warm beverage and a good book. What could be better than to curl up with a book that is itself wintery? There are many ways to interpret that, of course, and I've gone with the most literal: books that take place in winter and/or in snowy locations. Many of these winter books will warm you from within, countering the weather outside. There's variety in genre and tone, but all of these choices are among the best winter books from the last few years.
In this moving and philosophical memoir, Katherine May examines mental health, grief, and offers "instruction on the transformative power of rest and retreat." She dips into other literature, world mythology, and so much more as she goes through her own journey following her husband's illness, their son's struggles with school, and her own medical issues, and she turns it into near-universal lessons on life.
In this stunning work of graphic nonfiction, Manjit Thapp explores feelings and moods as they relate to seasons and weather, and asks the reader to see our own emotions as seasons in our lives. Divided into six seasons, this book is of course not solely wintery, but Thapp does explore the desolation one can feel in winter, among other seasonal feelings.
This clever work of historical fiction purports to be the autobiographical story of Sven Ormson as he leaves Stockholm for Svalbard to work as a miner. When an accident almost kills him, he goes to an even more remote area to live in isolation, with only the company of a dog. He gets through a few winters with a little help, and then an unexpected visitor arrives and Sven is faced with an opportunity for community.
When Eli was six, she saw the Northern Lights carry her mother away. Now sixteen, she asks the lights to bring her mother back — and they do. Strange things happen, and then Eli's mother vanishes again, leaving a note that says "Find me where I left you." Desperate for answers, Eli returns to Svalbard with her father, hoping to find out what really happened. There she meets her grandmother and searches for clues about her past.
In this collection of razor-sharp poems, the current Poet Laureate of the United States explores what it means to be sensitive, to be the hurting kind, and how we relate to one another as humans. Divided by season (like Marjit Thapp's graphic nonfiction above!), the poems tell stories and illuminate what it means to exist together.
Winter by Ali Smith
The second book in the Seasonal Quartet can be read alone, but is even deeper if you've read the first, Man Booker–nominated Autumn, as the characters are connected. Arthur recently broke up with Charlotte, and hires Lux to pretend to be his girlfriend at Christmas. His mother Sophia and her sister Iris are estranged, and the book explores what happened between them as well as what brought Lux to the UK.
In this apocalyptic thriller, a remote Anishinaabe community is cut off. With no power and a dwindling food supply, the people begin to panic and the leaders struggle to maintain the community. Then visitors begin to arrive, running from other crumbling societies to the south, and looking to take control of the reserve. As people die and chaos rises, so do tensions between the groups. Then a small group of young people look to the old ways to guide them back to order.
In the year 2030, the perfectly preserved remains of a girl who died from an ancient virus are discovered at the Arctic circle. An archaeologist arrives, grieving for his scientist daughter and there to finish her work. The melting permafrost that uncovered the body threatens to unleash the Arctic Plague, and people all over the world wait as the scientists look for a cure.
Looking for your next great read? Try TBR: Tailored Book Recommendations! TBR is a personalized book recommendation service that sends you books you'll love to read. Here's how it works: Simply fill out the reader survey and let us know what you want more of and what you're not keen on. Then, an expert Bibliologist will read your responses and recommend three books just for you. There are two subscription options: receive your recommendation letter via email in about two weeks — perfect for library users! — or opt to receive your recommendations as brand new hardcovers in the mail in about three to four weeks. Learn more and sign up now!