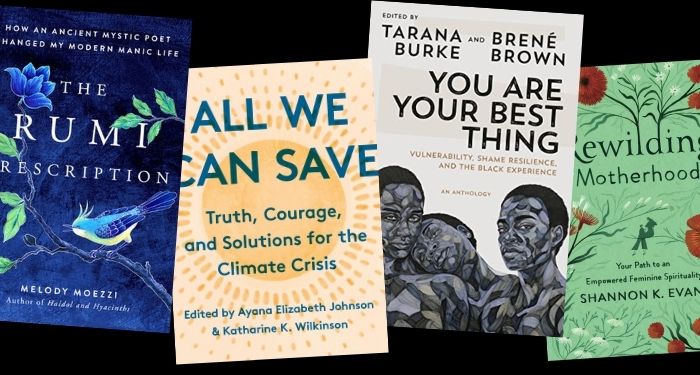 The world is a rough place right now, from war and unrest to climate change, to dealing with an ongoing global pandemic. If you're searching for some deeper meaning in life or just need some reassurance, guidance, or hope, then we recommend picking up any of the best spiritual books in recent releases that touch everything from religion and practice, to self-reflection and community-building, and everything in between.
Oftentimes self-care is billed as something we do for ourselves, but in this book Jewish author Shelly Tygielski reflects on her life experiences and how self-care became most healing when she practiced it in connection with her communities, reframing self-care from something you do sole for yourself to something that is essential for taking care of others.
Tarana Burke, founder of the Me Too movement, and Brené Brown, speaker and advocate, come together along with many other writers and activists to talk about the core of Brown's work and how it applies to the Black experience in the U.S. when it comes to being vulnerable and addressing shame.
Brené Brown guides readers on the range of human emotions that we all experience, and also shares what sort of communication tools are necessary to help build meaningful connections with others and tap into the language of human experience.
In this book, Josh Pavlovitz argues that the greatest action of faith is how we treat others. By showing others kindness and respect, readers can build a better world and stronger communities, and strengthen their relationship to God. This book challenges readers to take a hard look at their faith, and how they practice it.
Rumi was a thirteenth century poet whose work continues to persevere in modern day, speaking to love and relationships in a moving way. In this book, Melody Moezzi decided to immerse herself into Rumi's poetry, translating it herself and reflecting the lessons she learns throughout this process.
Mothers oftentimes are pulled in a million directions, while also being told that being a mother should be a higher calling. In this book, Evans encouraged mothers to "rewild" their concept of motherhood in order to achieve better balance and higher connection.
Athena Laz is a psychologist and dream expert who knows that when we spend 1/3 of our lives sleeping, there is bound to be much discovery in the landscape of our dreams. This book teaches readers how to interpret their dreams in new ways for great connection with oneself.
Wonder and awe can be hard emotions to chase in a busy life, but in this book John Paquette makes an argument for why these moments of awe are important for our overall mental health and wellbeing, and offers over sixty methods for chasing the feeling of high power.
In this smart and uplifting blend of science and spirituality, this collection of essays explore climate change and and activism, rooted in creativity, compassion, and collaboration. This is a poetic book that is about working together for a collective future, and caring for one another and our shared home.
If you're in pursuit of a higher awareness and consciousness, then Deepak Chopra's new book is a must-read. Here, he talks about becoming metahuman, and achieving a heightened state that is usually only accomplished when experiencing are moments of art and connection. Chopra challenges readers to move beyond their mental constructs that are holding them back, and offers a 31 day guide for greatened awareness and becoming metahuman.
Need more book recommendations? Check out our round up of the best nonfiction book subscription services. And if you would like to go deeper, sign up for TBR: Tailored Book Recommendations! TBR is a personalized book recommendation service that sends you books you'll love to read. Here's how it works: Simply fill out the reader survey and let us know what you want more of—such as the best spirituality books for your own journey—and what you're not keen on. Then, an expert Bibliologist will read your responses and recommend three books just for you. Receive your recommendation letter via email in about two weeks, or opt to receive your recommendations as brand new hardcovers in the mail in about three to four weeks. Learn more and sign up now!