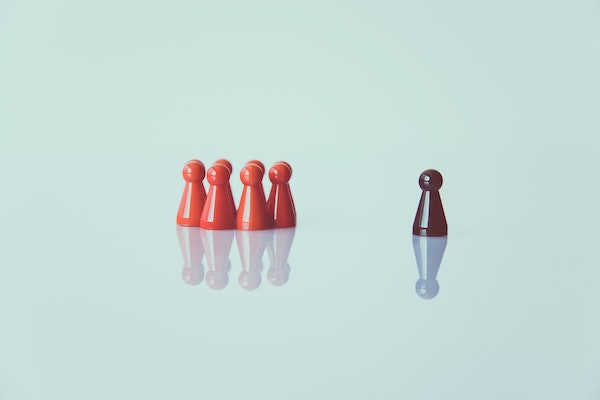 While there is certainly no shortage of books about how to be a great leader, finding the best leadership books for you might require a tad more finesse. Some books may be classics for a reason, but maybe you're looking for a leadership book for new leaders, or something that will address a contemporary workplace–that's where we come in! We've rounded up 15 of the best new leadership books published within the last five years that will help you become a stronger, more confident leader in all aspects of your life!
David M. Rubenstein has had the opportunity to speak with many leaders of business, politics, and more, and so he's distilled some of the wisdom he's cleaned from his interviews into this book, which offers perspectives from Jeff Bezos, Oprah Winfrey, Ruth Bader Ginsberg, Warren Buffet, and many more!
Developed with input and cooperation of the Harvard Business School, this book is a compilation of essays about issues of race and leadership in the workplace that approach this topic with sociological, economic, and psychological lenses. The contributors are businesspeople, researchers, and scholars, and they offer valuable insights.
Deisgned for anyone who is new to their career or leadership, this is a great book that offers strategies for readers to identify career goals, avoid pitfalls, put together an effective team, and problem solve!
In this groundbreaking work. Dr. Jones-DeWeever relies on hard data and anecdotes to shape a book full of advice and strategies for Black women to succeed in their chosen career field. She interviews many Black women to talk about their achievements and the nuanced challenges they've faced, and help readers find the confidence to become leaders in their own communities.
Brene Brown acknowledges in this book that being a leader isn't about being in charge or having a title, but about seeing people and their potential, and working with them to achieve communal goals. In this book, she discusses how we all can become leaders, no matter what our purpose may be.
Having worked at Google and Apple and taught management courses, Scott is ready to offer you advice about how to be a great boss without being pushy or being a pushover. This book encourages what she calls radical candor, which encourages praise, asking for feedback, and caring for the people you work with.
Cecilia Muñoz knows better than anyone what it's like to be the "first" to do something as a Latina woman in business and politics, and so she wrote this book for other women of color looking to succeed without a clear path or role model to guide them. Part how-to and part inspirational book, this book is for anyone looking to break barriers.
The Making of a Manager: What to Do When Everyone Looks at You by Julie Zhuo
This is a hands-on guide to becoming a great manager, no matter what your background might be. Zhuo offers advice on how to communicate and foster a good working relationship with your direct reports, what to look for when running a job interview, and how to find confidence when you don't know all the answers.
Diversity is more than just a buzz word, and Brown has created a pathway for leaders to go from unaware of diversity to an advocate for inclusion. She gives examples and tips for leaders to think beyond themselves and their experiences, and action items to act upon what they've learned.
When teams lack leadership, they lack the skills they need to succeed. Sinek wanted to understand why some teams were more successful than others, so he began to look at the leadership, and noted that good leaders sacrifice their own comfort in order to take responsibility and foster an environment where their direct reports feel supported–and in this book he offers tips on how to become that kind of leader.
In this book, Wickman and Boer make the distinction between a manager and a leader, and draw upon interviews with countless bosses to analyze what makes a great workplace environment full of engaged employees–a good boss. They offer tips for how bosses can become more productive and efficient, and tips on how to interact with direct reports to foster better relationships.
Being a great leader means more than just knowing how to get the job done–you have to have emotional intelligence. Knowing how to sense, respond to, and convey your own emotions is essential when working with others, and this book offers tips and insights into how to have greater emotional intelligence in the workplace.
If you're a woman of color looking to make it in corporate America, Minda Harts wants to have a frank conversation about the "ugly truths" that will likely work against your success, and then offer advice in how to succeed despite the unique challenges that being a woman of color in the workplace presents. This is great for anyone who wants to launch a career, or make a move to become a leader.
If you want to be a leader someday or are hoping for a promotion, there are things you can and should be doing now in order to prepare for the future. Ibarra advises that you not wait for an opportunity, but create one by taking time each day to foster leadership skills that will set you apart in the workplace.
In this recently updated edition, Carla A. Harris gets personal by sharing her hard-won wisdom and mistakes so that others can learn from her and find success in their own careers. She addresses such topics as authenticity, balancing your life to optimize your output, the differences between perception and reality, and more!
Want to find more great books, no matter what you're reading preferences might be? We've rounded up some of the best online book subscription services for you to peruse. And if you're after more business books, sign up for TBR: Tailored Book Recommendations! TBR is a personalized book recommendation service that send you books you'll love to read. Here's how it works: Simply fill out the reader survey and let us know what you want more of–such as business or leadership books–and what you're not keen on. Then, an expert Biblioligist will read your responses and recommend three books just for you. Receive your recommendation letter via email in about two weeks, or opt to receive your recommendations as brand new hardcovers from our partner, Print: A Bookstore in Portland, ME in about three to four weeks. Learn more and sign up now!