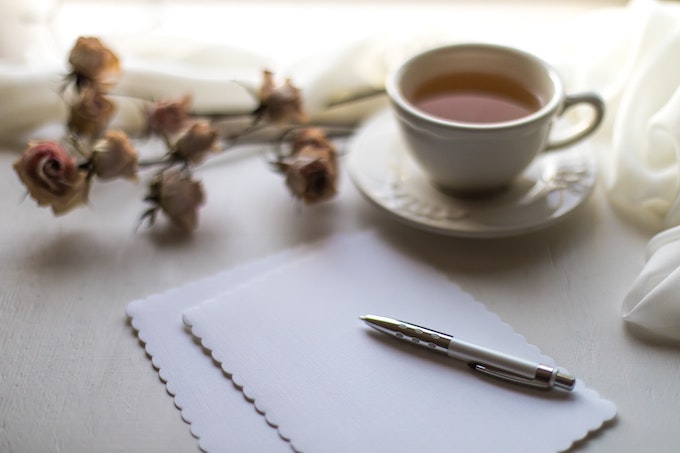 Dear reader, there's something kind of fun (and maybe a little voyeuristic) about reading epistolary novels. Exploring stories told through letters, journal entries, emails, and other forms of communication makes you feel like you're an investigator or observer, which can offer a unique reading experience. If you love modern epistolary novels, then you're in luck! We've rounded up some of the best epistolary novels, from classics to new releases, in all genres, that you'll want to get lost in.
In this sci-fi novella, Blue and Red are two time-traveling agents who work for opposing sides in a struggle for control over the future. But when their paths cross, they begin leaving each other letters that will lead to them falling in love–but also could expose them.
A writer putting her life back together after World War II strikes up a correspondence with a man in Guernsey, who shares with her the unique literary society that he and his neighbors formed during the war to resist the Germans who occupied their island.
Part letter to her lawyer, part confession, this novel tells the story of Rowan Caine, a young woman who thought she landed the dream job as a nanny for an ultra-rich family in Scotland, only to find it turn into a nightmare when one of the children in her care ends up dead.
A young woman keeps a diary of the tumultuous year her family faces when an American family moves into the estate adjacent to their crumbling castle in England.
In this novel for fans of Bridget Jones' Diary, Andrea Tang keeps a diary of what it's like to be a successful thirty-something in Singapore–well, successful except that she's not married, the last of her generation in the Tang clan to be single. But when she finds a man who might be perfect, her work rival keeps interfering.
In this humorous middle grade novel, two twelve-year-old girls from opposite coasts strike up an email correspondence when they discover that their dads are dating. What begins as an uneasy alliance to break them up turns into genuine friendship.
Charlie keeps a diary of his freshman year of high school, where he tentatively makes friends with two older teens and learns how to be brave enough to confront a trauma in his past.
In this novel of letters, Ella lives on the fictional island of Nollop, named after the man who invented the phrase that contains all of the letters in the alphabet. When the statue commemorating their founder begins losing its letters, the town bans the use of the fallen letters until someone can come up with a new phrase to restore their language.
Illuminae by Amie Kaufman and Jay Kristoff
Ezra and Kady have just broken up when an evil corporation lands on their planet for a violent take over. They escape, and find themselves locked in a desperate race to safety, having to work together. Their story is told in the form of a dossier of interview and chat transcripts, video logs, and more.
Written as a letter by an immigrant to his illiterate mother, this moving novel explores a son's coming of age and his examination of the family history of trauma that has had a profound impact on his life.
Told in the form of logs, this book is about Mark, an astronaut who landed on Mars but after an accident finds himself stranded without hope of rescue–so he has to take his few resources to try and survive as long as possible, so he can get word back to Earth.
Gabi is a fat Latina teen who is reckoning with multiple live changes–her dad's addiction, her best friend's pregnancy, her other friend coming out–as she struggles to find her own voice during her final year of high school.
In Tokyo, Nao is a teenager who documents her life and her deep discontent in a journal before deciding to end her life. In Canada, Ruth lives on an island in the Pacific when she discovers a journal washed up on the beach, swept from Japan across the ocean after the 2011 tsunami.
Set in 1999, this novel in emails is a workplace tale about two best friends who write each other constant emails during the weekdays and the IT employee who is required to monitor all emails–and accidentally falls for one of the women.
This spy story is written as a letter from Marie, the protagonist, to her two young sons, explaining the events that led her from working as an FBI agent to joining the CIA to spy on the president of Burkina Faso–and the ensuing fallout when the U.S. made a move against him.
After a family tragedy causes Brynn to mess up in school, she finds herself in remedial classes, writing emails to her hero, Rachel Maddow. When an injustice in her school fires Brynn up, she finds herself wondering what Rachel Maddow would do.
Part confession part tell-all, this is the story of Balram Halwai, a poor driver who works for a rich Indian family and finds his life transformed by the wealth and power he lives close proximity to. This story is told in the form of deliciously dark and funny emails.
This horror tome is full of appendices, exhibits, and collected notes to tell the story of a couple who move into a house that is bigger on the inside than the outside would suggest, and their children wander away.
Celie and Nettie are separated as children, but they maintain a correspondence that spans years and showcases their strength, struggles, and triumphs over abuse.
Want more epistolary novels? Check out Book Riot's big list of 100 must-read epistolary novels from the past and present!
Then if that doesn't satisfy you, sign up for TBR: Tailored Book Recommendations! TBR is a personalized book recommendation service that send you books you'll love to read. Here's how it works: Simply fill out the reader survey and let us know what you want more of–such as epistolary novels–and what you're not keen on. Then, an expert Biblioligist will read your responses and recommend three books just for you. Receive your recommendation letter via email in about two weeks, or opt to receive your recommendations as brand new hardcovers from our partner, Print: A Bookstore in Portland, ME in about three to four weeks. Learn more and sign up now!