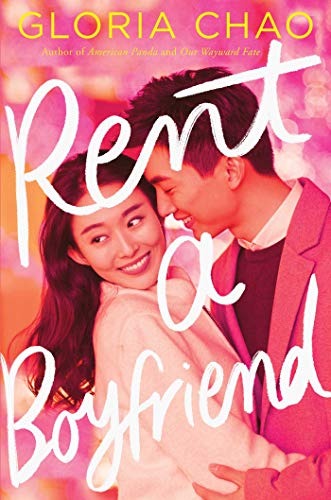 Heading off to college can be a really exciting time full of firsts–first time on your own, first time in a new setting, first roommates, and for many, first loves and first time having sex. College romance books can be really tricky to find because they often fall in that nebulous age between adult and YA, and while New Adult was popular for a brief period, that age categories never really took off the way it should have. So this list is a nice mix of YA and adult books, all set in college, with some great romances that run the range from sweet to very sexy! Note: There is a notable lack of queer love stories set in college. Hopefully publishing will address this lack in the future.
When Chloe wants to get her parents off her back about getting engaged to the odious son of their family friends, she makes a drastic move and hires Drew, a professional stand in boyfriend who aims to please demanding Asian parents. Chloe brings Drew home for the holidays, but is surprised to find that she likes him for real…and so do her parents! But that could be a problem, because Drew's parent-pleasing persona is not at all his real self.
Fangirl by Rainbow Rowell
A classic college romance book, this novel is about Cath, a shy college freshman who is upset when her twin sister Wren decides she doesn't want to room with her. Now, Cath is navigating freshman year by mostly never leaving her room except for class, until her bossy older roommate and her friend Levi intervene…and she finds herself falling for charming, easy-going Levi.
Penny is starting college in Austin, TX, and Sam is barely getting by working at a cafe. When their paths cross unexpectedly, they become each other's emergency contacts, and embark on a text-based relationship. But as their lives get complicated and they come to rely more and more on each other, can they move their new romance IRL?
Fresh by Margot Wood
In this fresh and exciting retelling of Emma, Elliot McHugh is excited to dive into all that Emerson College has to offer…socially, anyway. But when her exploration of freedom, love, sex, and friendship is roadblocked by harsh reality, Elliot will have to re-evaluate to figure out who she really wants to be, and maybe find love in the process.
You'll need to pick up both books to get your HEA, but this is a great duet of novels about Allyson, who is about to start college but first is embarking on a rigidly planned three-week European tour. She longs to be the type of girl who just travels without a plan, and she gets her chance when she meets Willem and impulsively ditches her group to spend the day with him. After a perfect night, she wakes up and he's disappeared. Allyson spends the next year trying to find herself, and her way back to him.
Technically, this is the third book in Jenny Han's trilogy, but if you read all three you'll be treated to the sweeping love story between Belly, Conrad, and Jeremiah. Belly grew up spending summers with the brothers and always thought that she knew which one would be for her. But when tragedy strikes, Belly finds her life leading her to unexpected choices and places. And now that she's about to graduate from college, who will be her forever boy?
Lea and Gabe meet in their college creative writing class, and it's immediately obvious that there's something between them. A little something different. They seem meant to be according to everyone around them, and in fourteen unique viewpoints, Hall tells their charming and fated love story.
In this charming graphic novel romance series, Eric is a new freshman at Samwell University, and he's just joined the hockey team. A former ice skating champ, he's completely unprepared for the roughness of hockey….and for his crush on the hockey team captain.
In this sequel to 99 Days, Molly is. business major in Boston and she's got a great boyfriend. When they head on a European vacation together, the last thing she expects is to run into her ex and his new girlfriend…and things get very complicated when they merge trips, but don't tell their significant others who they are to each other.
Alice is a college student with her summer planned out: working at the library and hanging with her girlfriend. But when her girlfriend breaks up with her when Alice comes out as ace, Alice swears off dating. Enter Takumi, who is very hot and sweet and makes Alice's heart flutter. But will she want to risk a romantic relationship with him if he learns that she's ace?
Gena/Finn by Hannah Moskowitz
Gena is a new college student and Finn is a twenty-something woman who is thinking about marrying her long-time boyfriend. When they meet online and bond over a shared fandom, they find friendship and connection and maybe something more…but they live on opposite ends of the country,
The third book in Adler's Radleigh University series, this book follows Frankie, who is usually pretty successful at wooing any girl she sets her sights on. Only this time she wants someone she can't have–Samara, the daughter of a Republican politician. Only, Frankie is shocked when Sam wants her too. The only problem? Frankie is looking for a fling and Sam wants the real thing.
The Professor by Charlotte Stein
Esther is a mediocre student in Professor Halstrom's class, but one day she accidentally turns in an erotic fantasy about the cold, handsome, and demanding professor in an essay. Humiliated, Esther expects that he'll grow angry at her, but instead he offers her private lessons in sessions that are about to get very sexy.
This is another case where you have to read both books to get your HEA, but it's a great duet about Annabelle, who is about to graduate from college when she propositions Dr. Charles Douglas, a man she meets in the lab. He rejects her at first, but the chemistry between them is undeniable as they embark upon a passionate affair.
August is a twenty-something living in New York City, taking college classes, who doesn't believe in true love and all that so-called magic. But then she meets Jane, her subway crush…and learns that Jane is from the 1970's, and she's been displaced in time. And in order to help her, August will have to start believing in magic.
And They Lived... by Steven Salvatore
Hitting shelves in 2022, this novel is about Chase, a hopeless romantic, Disney fan, and aspiring animator. When he starts college at a competitive arts school, he feels like a fish out of water. Then he meets Jack, a poet who hasn't quite figured out his sexuality yet and the sparks fly…but do they have what it takes to go the distances and live happily ever after?
Want more great romantic reads? Check out our list of best romantic thrillers. And if you want more college romance books or recommendations, sign up for TBR: Tailored Book Recommendations! TBR is a personalized book recommendation service that sends you books you'll love to read.
Here's how it works: Simply fill out the reader survey and let us know what you want more of–such as fairy tales for adults–and what you're not keen on. Then, an expert Bibliologist will read your responses and recommend three books just for you. Receive your recommendation letter via email in about two weeks, or opt to receive your recommendations as brand new hardcovers in the mail in about three to four weeks. Learn more and sign up now!