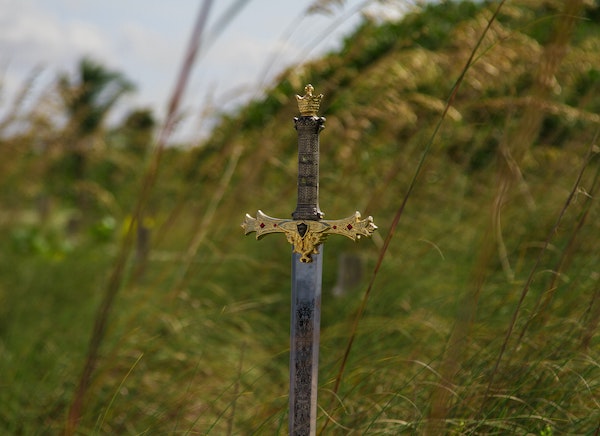 King Arthur has been capturing imaginations for centuries, and continues to inspire stories into the twenty-first century, whether they're retellings, stories about side characters we associate with Arthur's court, or reimaginings set in space! Because there's no story or version that's considered "canon," the universe is the limit, and we love to see so many iterations of Arthurian legend books. If you're looking for some more recent, modern books about King Arthur, we've got you covered!
Note: Most of these Arthurian legend books are written by white authors. Publishing still needs to do some work when it comes to publishing diversely in this area!
The first in the Camelot Rising trilogy, this book is about Guinevere, who is sent to Camelot to marry King Arthur, a man she's never even met. But she's sent by Merlin, who has proclaimed that their marriage can save Camelot, and Guinevere can keep Arthur safe. But what no one knows is that Guinevere is not her real name, and she's in fact a changeling sworn to protect Camelot.
When Bree's mother dies, she decides that she'd rather be anywhere but home, so she joins a residential program for gifted teens. But on her first night she witnesses a magical attack and learns that some teens are considered "Legendborn." Then a mage called a Merlin tries to erase her memory, but instead he inadvertently awakens Bree's own magic–and Bree realizes there's more to her mom's death than she knows.
In this novel and first book in a trilogy, a forgotten queen named Languoreth takes center stage. Languoreth is the twin sister of Lailoken, a warrior and druid who served as the inspiration for Merlin. Languoreth is destined to marry a man who is sympathetic to Christians, but when circumstances of war put her in the path of another who steals her heart, Languoreth must make a decision that will change the course of history.
Although this book is on the older side, it got a reboot when it was made into a Disney Original movie! It's about Ellie, a new girl at Avalon High, where she finds herself drawn into the lives and dramas of some of the most popular students: Will, the class president. Lance, the jock. Jennifer, the cheerleader. But their lives are starting to mirror what Ellie's been taught about King Arthur's court, which has her wondering: What part does she play in all of this?
Once & Future by Cori McCarthy and Amy Rose Capetta
In this sci-fi retelling, Arthur is Ari, a teen girl who's homeless and perpetually on the run in a galactic empire dominated by a mega corporation. When she crash lands on Old Earth, which is forbidden to normal people, she pulls a sword of the stone and immediately sets off on a wild adventure across the universe.
Cursed by Thomas Wheeler
What if the sword chose a queen instead of a king? This story follows Nimue, an outcast in her Druid village because of her connection to dark magic. When her village is attacked and she's the sole survivor, Nimue is tasked with reuniting a sword with a powerful sorcerer, but in the meantime, Nimue wields it…and finds that maybe she can reunite her people if she can hold onto the sword.
Set in 490 AD, this book imagines the story of the legendary Lady of Shalott. Elaine of Ascolat is the daughter of one of King Arthur's only supporters, and she lives on a military base where her only other female companion is Arthur's sister, Morgan. Elaine is secrecy in love with Lancelot, but when Gwynivere, a new young woman, arrives, Elaine's world changes drastically.
Set in an alternate 1980s London, Susan is looking for the father she's never met. She approaches a crime boss who might have answers, but before she can get, the crime boss is turned into dust by an attractive sorcerer named Merlin, who introduces Susan to the underground world of magical London.
This is an epic, sharp-humored, and a bit profane retelling of the Arthurian legend that reveals the King Arthur's court is more of a "gangster's paradise." None of the characters that we know are honorable or beloved, but instead varying degrees of shady who are scrabbling for power. This is very much an irreverent take on Arthur and his court, but a funny perspective nonetheless..
Sword Stone Table edited by Jenn Northington and Swapna Krishna
Do you love Arthurian legend books but are hoping for some diversity in this particular sub-genre? This collection of stories reimagines the characters and plots in inventive ways! So if you'd like your legends with lesbian knights, if you ship Merlin and Arthur, if you want to see the Lady of the Lake as a Ugandan sorceress, then get this book on your TBR! (Coming summer 2021.)
If you want to stay on top of all the amazing retellings and reinterpretations of your favorite stories, consider signing up for one of the best book subscription services, TBR: Tailored Book Recommendations! TBR is a personalized book recommendation service that sends you books you'll love to read.
Here's how it works: Simply fill out the reader survey and let us know what you want more of–such as myth retellings or King Arthur books–and what you're not keen on. Then, an expert Biblioligist will read your responses and recommend three books just for you. Receive your recommendation letter via email in about two weeks, or opt to receive your recommendations as brand new hardcovers from our partner, Print: A Bookstore in Portland, ME in about three to four weeks. Learn more and sign up now!