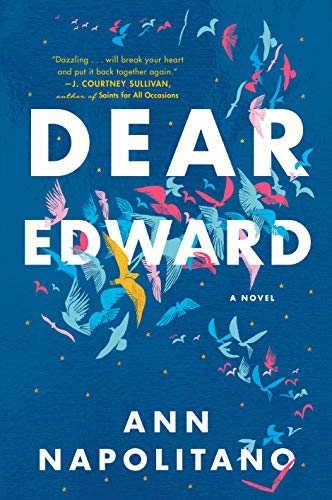 Dear Edward by Ann Napolitano is a moving, heartbreaking book about tragedy and rebuilding your life after unspeakable loss, inspired by the true story of a young boy who was the sole survivor of a plane crash that killed his entire family. The novel was an instant bestseller, and a Read with Jenna book club pick. If your book club is looking to pick up this novel, then read on for a summary and some Dear Edward book club questions to get your meeting going!
Dear Edward Summary
When twelve-year-old Edward boards a plane with his older brother and their parents, he expects a normal, mundane flight from Newark to Los Angeles, where the family plans on relocating. The flight is populated with 191 other people, including a veteran, a young woman dealing with an unplanned pregnancy, a Wall Street banker, a woman running from her abusive partner, and a successful businessman. Halfway through the flight, the plane goes down…and only Edward survives.
Edward must now rebuild his life in the wake of devastating loss, without the people that he's come to rely on. He's taken in by his aunt and uncle, who are kind but they also have their own issues to deal with, not to mention they too are mourning the loss of family. Edward slowly makes sense of his new reality, befriending a girl next door and staying out of the media's attention as best he can. Then, he discovers a trove of letters, all addressed to him. Written by the family members of the other victims of the crash.
Dear Edward Book Club Questions
Dear Edward was directly inspired by the real-life story of Ruben van Assouw, who lost his own family in a situation similar to Edward's. Were you aware of the case before you read Dear Edward? Did reading this novel affect how you think of tragedies that are reported in the news?
Do you normally pick up books that you know will be tragic? Do you have to be in the right mindset for them?
How does reading a book about tragedy make you think about or evaluate your own life?
What did you think of the first chapter, when the author introduced us to all of the different characters? What was your perception of them? Did you feel differently knowing they would all soon die?
Some people in Edward's life tell him that the tragedy would be easier to bear if he disliked his family or wasn't as close with his brother. Do you think that's true?
Discuss the idea of how losing your closest family can impact someone. Shay implies that Edward has already lived through the worst, most hurtful thing that's ever happened to him or could ever happen to him. Do you agree?
What did you think of the relationship between Edward and Shay? Why do you think they seemed to click right away? Discuss how their relationship plays out.
What did you think of the stories of the passengers also on the flight? Did any of them stand out to you?
What, if any, responsibility do you think Edward has in reading or responding to any of the letters sent to him? Why do you think so many loved ones of the victims sent him messages? What are they hoping for?
What did you think of Edward's aunt and uncle's decision to keep the letters from him? Do you think they were unfair, or were they trying to protect him?
Discuss the structure of the novel. It alternates between the flight and the aftermath, so you have to get through the entire book to see the bigger picture. Did you like this structure? Why do you think the author chose to tell the story this way?
Why do you think Edward doesn't care to learn why the plane crashed? Do you think knowing the reason would change anything for him? What was your reaction when you learned about the reason behind the crash?
Need more book club inspiration? Check out our guide to running a book club, and then if you want more heartbreaking but uplifting book club picks, then sign up for TBR: Tailored Book Recommendations! TBR is a personalized book recommendation service that sends you books you'll love to read. Here's how it works: Simply fill out the reader survey and let us know what you want more of–such as book club selections–and what you're not keen on. Then, an expert Bibliologist will read your responses and recommend three books just for you. Receive your recommendation letter via email in about two weeks, or opt to receive your recommendations as brand new hardcovers in the mail in about three to four weeks. Learn more and sign up now!