At Book Riot, we believe there is nothing better than finding the perfect book recommendation at the perfect moment in time! That's why we created TBR: Tailored Book Recommendations, a Book Riot subscription service that provides readers with three personalized book recommendations per quarter. If you've been thinking about investing in a book subscription box, or are in need of expert book recommendations to spice up your TBR, then Tailored Book Recommendations is made for you! Here is a behind-the-scenes glimpse at how it works!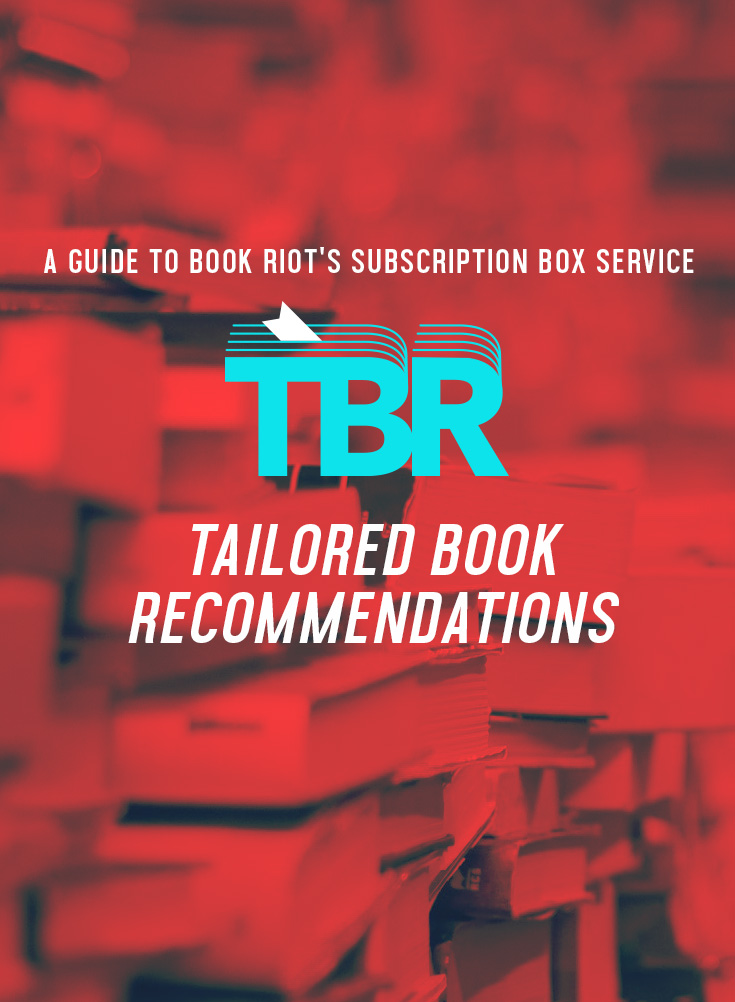 What is TBR?
TBR offers two subscription levels for readers to choose from. The first is the recommendations-only level. For $15 per quarter, you will receive three personalized book recommendations delivered to your email inbox.
If you love book mail and want to start reading your picks ASAP, you can opt into the hardcover level for $79 per quarter (plus shipping), and you will receive three new hardcover releases picked just for you. Each level includes a recommendation letter that explains why we think you'll like your three picks.
How does TBR work?
How do we go about personalizing your recommendations? It all starts with our reader survey. We'll ask you your favorite genres, if there is anything you'd like to explore more of in your reading life, the last few books you loved, and if you're looking for recommendations centered around a specific theme.
We'll also ask you to rate how comfortable you are with reading outside of your comfort zone. You can rate this from "keep it familiar" to "mix of familiar and stretch" to "spice it up!" You can also share a link to your Goodreads account with us, if you have one, so we can see what you've read and rated, and what might already be on your radar.
From there, your survey responses are delivered to our Pigeon-in-Chief, who reads them carefully and then assigns matches you up with one of our expert Bibliologists. Our Biblioglostis are carefully selected from our pool of Book Riot contributors based on their experience recommending books to people as librarians, booksellers, and other book professionals. They have a diverse and varied spectrum of reading preferences and passions, and careful thought and consideration goes into assigning each reader a Bibliologist.
Once your Bibliologist has been selected, they receive your survey responses and link to your Goodreads account. They read your responses and check out your Goodreads shelves, and they start brainstorming! Generally speaking, the more information you can give your Bibliologist, the better! In the past, our readers have asked for a wide variety of recommendations, such as fantasy novels that remind them of their childhood, books that will help them escape from the stress of jobs and life, and books that will open their eyes to places and experiences they know little about. While Bibliologists aren't book magicians and cannot give you a book that doesn't exist, they welcome specific requests such as "I'd like to read more diverse westerns," or "Give me lesbians in space!"
Once your Bibliologist has selected three books they think you'll love, they cross-reference them with your Goodreads account to make sure you haven't read or shelved the books before. If you picked the recommendations-only subscription level, your recommendations will include new books and backlist titles–unless otherwise instructed. If you are a hardcover subscription member, your picks will only be brand new hardcover books that have been released within the last year. Once the picks have been finalized, your Bibliologist will begin to compose your personalized letter, which explains why they chose the books they did based off of your survey responses. If you'd like to see an example, here are a few.
Once the letter is composed, we mark it as ready for our Pigeon-in-Chief! If you picked the recommendations-only subscription level, she gets your letter ready for email delivery–you should receive your recommendation letter within 14 days of ordering! If you have chosen the hardcover delivery option, then the Pigeon-in-Chief orders your picks from our partner independent bookstore, Print: A Bookstore in Portland, ME. Your three books and recommendation letter should arrive at your doorstep within 3-4 weeks of TBR receiving your order. Then, enjoy your personalized book recommendations!
How to refine TBR selections
About a month after you receive your picks, you will get a notification encouraging you to log into your TBR account and leave feedback on your books, and your Bibliologist. You can give each book a star rating, write a few words about why the book did or did not work for you, and even leave general feedback about the picks and process for your Bibliologist.
It is music to our ears when readers write to tell us if a recommendation was the perfect book for them, or that they never would have heard of a certain book if it hadn't been recommended by TBR. Some readers have even called their Bibliologist their "book soul mate"! The feedback process is a really fun and enriching part of TBR, as it allows readers to think about what they like in books and why, and that helps Biblilogists to hone in our redirect in their pursuit of finding you the perfect book.
Can you return books?
Because of the personalized attention that goes into each recommendation, your picks and books are non-returnable and non-refundable. However, if you don't like your picks, please do give your Bibliologist feedback and update your Goodreads profile!
The more information your Bibliologist has, the better! If you'd like to switch Bibliologists, you may–just leave a comment in your feedback survey and the Pigeon-in-Chief will assign you to someone new!
Can I sign up for TBR?
In terms of availability, the recommendations-only level is open to readers worldwide! Because of shipping rates, the hardcover level is only available in the U.S. You can switch between recommendation-only and hardcover levels from quarter to quarter, and if you sign up for the hardcover level for an entire year, we'll give you free shipping!
You can also give gift subscriptions to TBR! Treat your favorite book lover to recommendations by email or hardcover books in the mail, as a one-time gift or year-long subscription.
Are you ready to discover your next favorite book with TBR, a Book Riot subscription service? Sign up for TBR: Tailored Book Recommendations today!